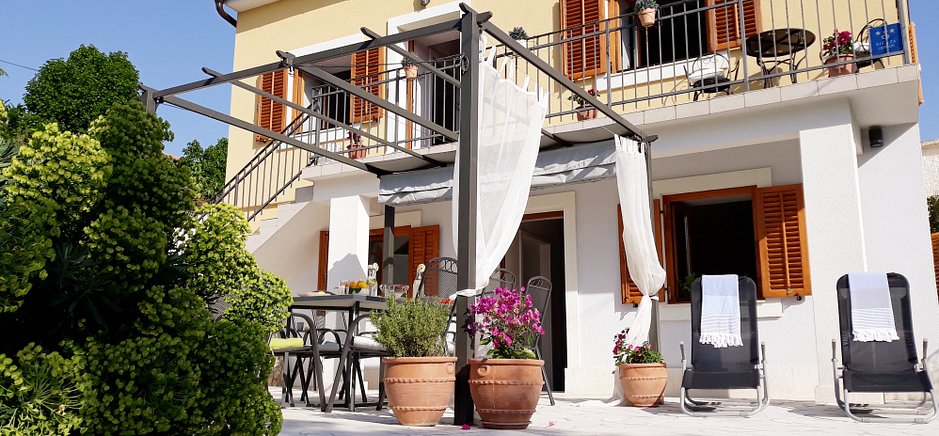 Have you ever wanted to go away from the everyday world you live in and enjoy the beauty of the nature? You deserve a break. Let yourself have a perfect vacation. Exquisite four-bedroom villa "Novi Dvori" is decorated to the highest standards of modern design and has four bedrooms, a modern kitchen with all appliances, luxury bathrooms, and open space living room. It is ideal for family and friends. You will also enjoy the location of the villa. It is perfect for having complete tranquility within your own Mediterranean patio, while never being more than 10 minutes away by foot from the beaches, parks, promenades by the sea, tennis courts, 5 minutes away by foot from the city center and old town. The street, which the villa is located on, is so peaceful that the first thing you will hear in the morning will be the birds singing.
If you want a dream vacation, Villa Novi Dvori is the perfect choice for you. It is situated in a small, picturesque, Mediterranean town called Novi Vinodolski. A 5-star accommodation, Villa Novi Dvori is a synthesis between the traditional Mediterranean style and the modern design. It is a place that brings the luxury and the newest design together into a harmony that gives you a warm feeling of "being home".
On the first floor, there is a large living room, a modern kitchen, a bedroom and a luxurious marble bathroom. On the second floor, there is another marble bathroom and three bedrooms.
All of the bedrooms are beautifully furnished, with every detail being carefully chosen to create a private space that will make you feel extremely free and relaxed. Your comfort is our priority.
The modern kitchen is spacious fully furnished and is just inviting you to try and cook some Mediterranean food and let yourself fall in love with it. The Villa also has an outdoor kitchen, which allows you to cook some delicious Mediterranean food while enjoying the sun and fresh air all day long. The outdoor kitchen is next to the beautiful outer sitting area, which is under a pergola, which is why people like to sit there even when the sun is the strongest. Why do our guests love the outer area so much? Well it's because it is the perfect place to gather the whole family around the table. There you can talk about things you've seen in Novi Vinodolski and share your experiences, while being outside and enjoying the summer weather. The outdoor space is a place reserved only for relaxation. The patio of our villa is so comfortable that it will lure you into eating your breakfasts there instead of in the dining room so bring your fresh breakfast with you on the patio and enjoy a good book or enjoy in the company of your friends and family.
Relax your body and your mind because – you are right where you need to be!
AMENITIES:
Free resident car parking
AC and heating
Free WiFi
LCD-TV
Modern kitchen with all appliances
Tea & coffee making facilities
Outdoor kitchen with barbecue
Mediterranean herb garden